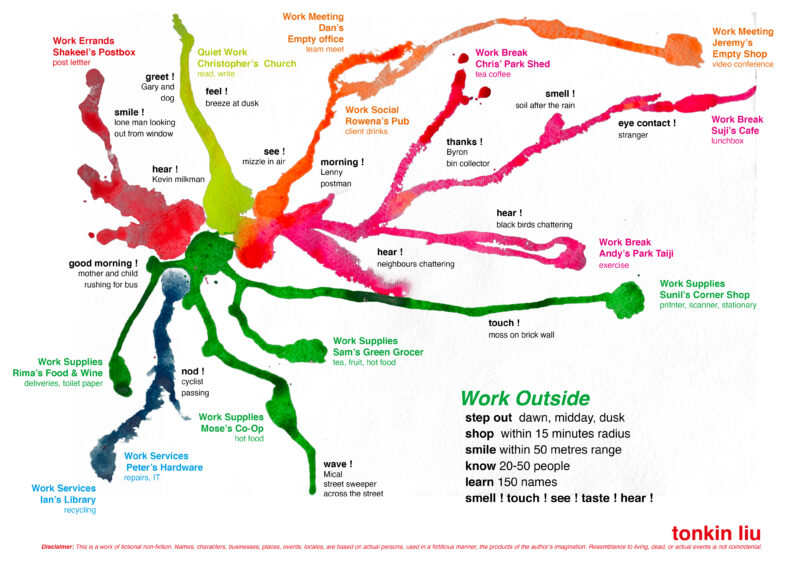 Work Outside takes rituals of the working day out into communities by nudging people to connect in different ways – stepping outside at dawn, midday and dusk, shopping within a 15-minute radius, smiling in a 50-metre range and learning 150 local names.
A new web of local work infrastructure will include the park, corner shop, pub, café, hardware store, church, library, clinic, pharmacy, greengrocer, empty shops, and empty offices. The aim is to get workers out of their homes and embedded into the community, promoting physical and mental wellbeing and helping to regenerate high streets and to build a robust, vibrant and sustainable social fabric.
Throughout lockdowns, essential workers have continued working in schools, hospitals, warehouses, local shops, utility companies and council services. Streets have been kept clean, waste has been collected and water, internet, gas and electricity have been delivered uninterrupted. Over-stretched and underpaid Deliveroo and Amazon drivers have made home / work possible for some.
In the safety of their homes, meanwhile, homeworkers have been alone and sedentary, glued to electronic screens and de-coupled from the wider human web. Technology has given the ability to connect as a global village but will nature and human interactions reconnect the local village? Building on local infrastructures, Work Outside will trigger people to leave the confines of their
homes. It will reduce carbon costs, put money into local economies, boost local businesses, and rebuild hearts and minds and capacity for joy.

Tonkin Liu
Architects, brand agency, graphic designer, software designer.

Local collaborators
Local park – Chris, Islington Council
Local corner shop – Sunil
Local pub – Rowena
Local café – Suji
Local restaurant - Faiza
Local hardware store – Peter
Local church – Father Christopher
Local library – Ian
Local clinic – Dr Baines
Local pharmacy - Amber
Local green grocer - Sam
Local empty shop – Jeremy
Local empty office - Dan