CALL FOR ENTRIES
The theme of the 2022 Davidson Prize is 'Co-Living – A New Future?'. The second annual prize for thought-provoking ideas around the design of the home will be awarded in June 2022.
The Davidson Prize looks for multi-disciplinary collaborative approaches but each team must include an architect registered with ARB (UK) or RIAI (Eire). The prize is free to enter.
The competition is organised in two stages (see Key Dates and Process below). To register interest, teams are asked to complete this registration form by 12:00 GMT on Friday 07 January 2022 (see Register Your Interest below).
CO-LIVING – A NEW FUTURE?
Home may be where the heart is – but are our notions of home in step with the 21st century?
While some may have spent lockdowns yearning for a bit of personal space, others found themselves with too much of it. In the aftermath of the pandemic it seems we're facing a loneliness epidemic, with the British Red Cross reporting around 9 million lonely people in the UK. Meanwhile the trend towards single-person households continues to grow, and around a quarter of families with dependent children in the UK are now single-parent.
The Davidson Prize's 2022 brief asks whether co-living could be a transformative key to the way we think about our homes – as well as our communities – and how they're designed. From apartment blocks to one-off houses, it's a question perhaps particularly apposite in light of the UK's well-documented undersupply of homes, leading to today's generation rent as well as burgeoning visible and invisible homelessness.
Co-living is not a new concept. It already exists in many forms including student accommodation, retirement communities, and multi-generational households. From co-operatives in Catford to self-build in Bristol, and from 'agrihoods' in Scotland to third-age collective living in Barnet, experimentation with models for living is nothing new. In 1916 Vanessa Bell and Duncan Grant reorganised notions of home, sexuality and gender roles at Charleston Farmhouse. In the 1970s, artist collectives such as Acmefound new ways of exchanging labour for a roof over your head. The cultures of Dutch 'centraal wonen' or Danish cohousing have as many similarities with Britain's historic almshouses as they do with kibbutzim in Israel or Tipi Vally in Wales.
Faced with the implications of an ageing population, rising costs of care and the environmental price of energy and embodied carbon, our homes are also increasingly moonlighting as places where people earn a living. On top of that they're sites of the invisible labour that keeps the supply chains of economies oiled (in the UK alone it's thought that the value of unpaid work taking place in the homes of today is around £700 billion annually). Are our homes up to the job?
The demands being placed on the spaces we live in are perhaps more complex than ever before. There has probably never been a better opportunity for design that rethinks our models of home while transforming lives and safeguarding the environment. What's your take?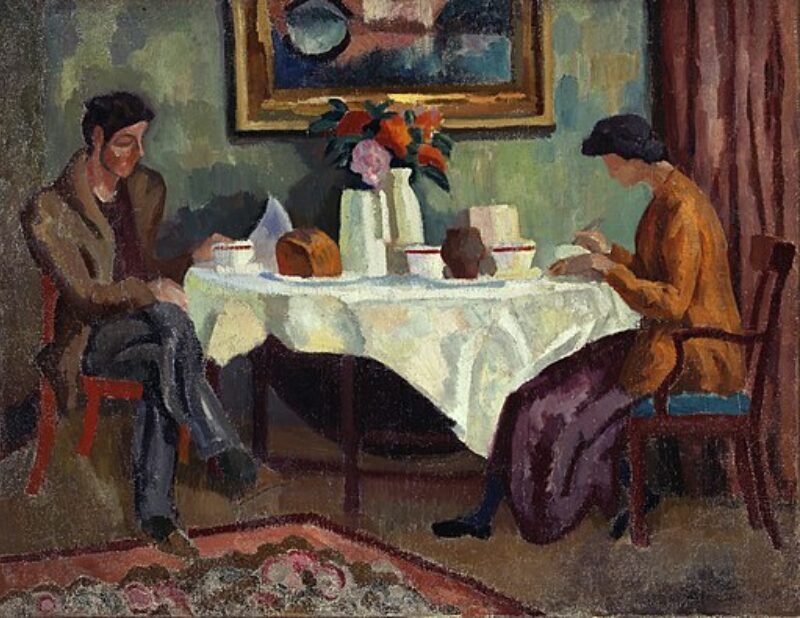 THE BRIEF
We would like to see how co-living design ideas could solve issues stated above, from single dwellings to apartment blocks.

Entries should:
Clearly communicate how the proposed design idea offers a solution to one or more of the challenges set out above
Show the benefits of multi-disciplinary collaboration
Demonstrate effective communication of design ideas to lay audiences.
See 'Submission Requirements' and 'Judging' below for further information.
Judges will be looking for:

A positive and tangible design response to the theme
An approach that will advance the discussion around co-living
Interesting ways of communicating architectural ideas to a general audience
Evidence of multi-disciplinary collaboration with other creatives e.g. visualisers, filmmakers, artists.
Please note that visual material that has previously been paid for by any party may not form part of your submission.
BACKGROUND TO THE PRIZE
Launched in 2020, The Davidson Prize has been established in memory of Alan Davidson (1960–2018) – architect, artist, technologist, innovator and founder of London-based architecture visualisation studio Hayes Davidson.
The prize rewards architectural ideas that imaginatively rethink the design of the contemporary home. The prize is administered by the Alan Davidson Foundation.
Alan Davidson was a passionate believer in the power of storytelling, and the prize will also celebrate traditional and new ways of communicating architectural ideas from drawing to immersive technology.
So, the aim of the prize is:
To promote excellent design ideas
To recognise inventive and compelling ways of communicating design ideas to audiences including the general public
To encourage multi-disciplinary collaborations
Each year, entrants will be asked to consider a different aspect of future living. Three finalists will each receive £5,000 to develop their ideas. The overall winner will receive a prize of £10,000.
REGISTER YOUR INTEREST
Register your interest by completing this form. When registering you will be asked to provide the following details:

Main contact
Architect team member (if different to main contact) and their ARB or RAIA registration number
Other proposed team members and their disciplines (if applicable).
Competitors will be issued the details for sending their submission by early January 2022.
If you have not received this by the end of January please contact: hello@thedavidsonprize.com
You then have until 12 noon on 4 February 2022 to send your submission to the 2022 Davidson Prize.
KEY DATES AND PROCESS
Registration – deadline 12 noon on 7 January 2022
STAGE 1
Submission of initial design ideas – deadline 12 noon on 4 February 2022
STAGE 2
Shortlist announced – tbc March 2022
Finalists announced – tbc April 2022
Finalists submission deadline – tbc May 2022
Finalist interviews – tbc May 2022
2022 Davidson Prize winner announced – tbc June 2022
SUBMISSION REQUIREMENTS
Stage 1: submission should comprise:
A single-page A3 presentation showing an initial design idea and captions outlining your concept (PDF format, no larger than 5MB)
A supporting statement setting out the challenge in words and explaining how your concept addresses the theme and the visual communication of architectural ideas (1 x A4 sheet max 250 words)
A page detailing all members of your team and their discipline (a form will be provided) with headshots.
Please ensure that your chosen team name is clearly visible on each file name when sending your submission. Your team name will appear on social media posts and on your trophy should you win.
Stage 2: the three finalists will each receive £5,000 to work up their design.
The finalists will be asked to submit:
A visual media presentation of up to two minutes. Content can include drawings, models, film, animation, VR, or other media capable of representing architectural qualities
Up to three hero images to be used for publicity purposes.
Each of the three finalists will be invited to give a 10-minute presentation to the jury panel followed by a Q&A.
The winner will be decided following these presentations.
The winner will be announced in June 2022, details tbc. The winner will receive a prize of £10,000.
JUDGING AND JUDGES
The 2021 Davidson Prize jury panel comprised Alison Brooks (Alison Brooks Architects), Thomas Heatherwick (Heatherwick Studio), Michelle Ogundehin (author and broadcaster), Narinder Sagoo (Foster + Partners) and Sonia Solicari (The Museum of the Home).
The 2022 jury panel will be confirmed by Stage 1 submission.
Stage 1
Submissions will be initially reviewed by a committee, leading to a shortlist. The committee will comprise industry professionals and representatives from the Alan Davidson Foundation and the jury panel.
The Stage 1 assessments will be based on the following criteria:
The design ideas on the submitted board and the clarity of communication
The combined skills of the team as described in the submission.
Stage 2
Shortlist will be reviewed by the jury panel and 3 finalists will be chosen.
The finalists will present their final concept to the jury panel and nominate the overall winner.
Please note that the committee and jury panel's decisions are final.