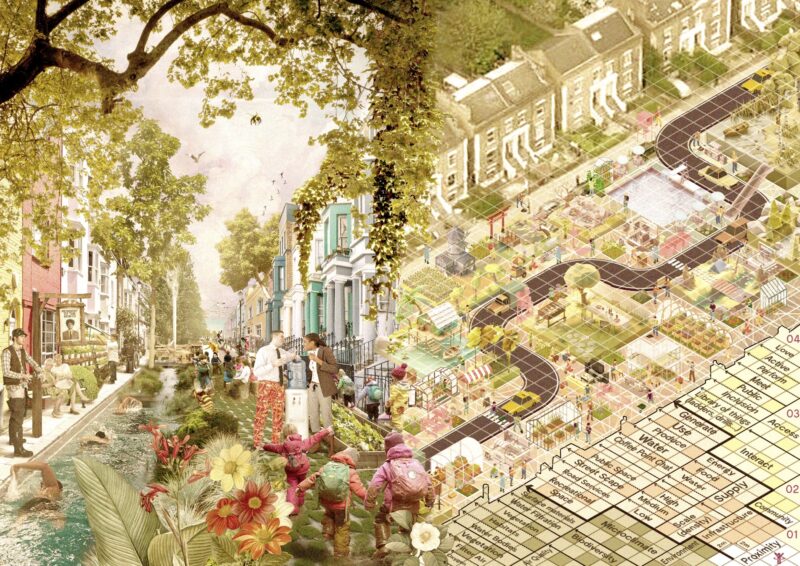 A Framework for Local Growth
The focus of Ukuaji – which means 'growth' in Swahili – is the streets, avenues, alleys, passageways and mews of cities. How can casual water-cooler conversations be replaced at an urban scale? How can people carry out 'work' in the public realm?
Supporting greater hyperlocalisation, the goal is to design new neighbourhood opportunities for living, working and leisure that support purposeful and fulfilled lives while helping to regenerate the planet. Ukuaji seeks a new way of designing city streets that integrates community participation, workshops, film and augmented reality. Using a pixel farming (two-dimensional grid) approach, the project will map the city to categorise common public realm elements including defensible space, services, transport routes and flora.
Focusing on the testbed of a single street in partnership with a local authority and a community group, Ukuaji will document discussions, physical drawings and installations in real time before colliding the physical with the digital and creating an augmented reality of the street with all its inspiring wonders.
Team: Ukuaji
Studio 8FOLD
Alexander Frehse, Mieke Haase, Lloyd Martin
SYSTEMIQ
Katherine Stodulka
No Ghost
Luke Gibbard
Rydawi Pvt Ltd
David Fincham