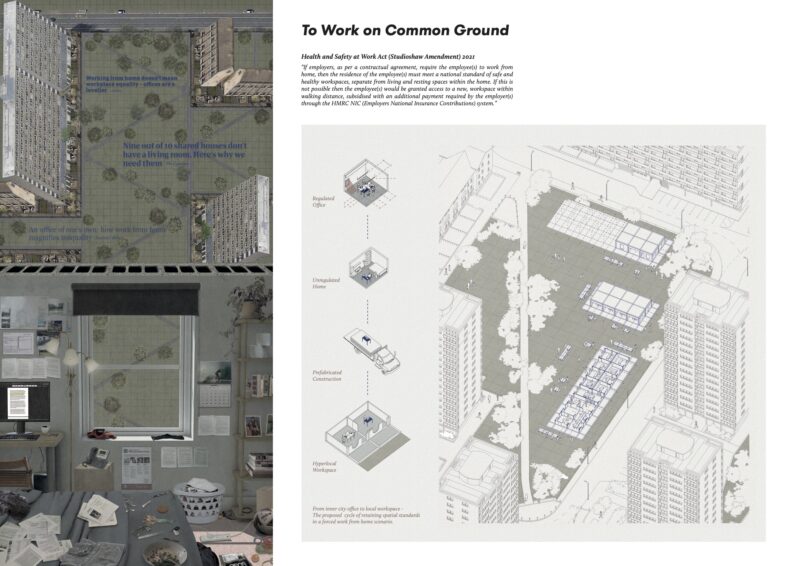 To Work On Common Ground
Studioshaw and Finn Thomson
In April 2020 just over 43% of the UK workforce was working exclusively from home, according to a report from the Wales Institute of Social and Economic Research – an increase from 5.7% in 2019. The BBC Future Forum research panel reported that only 12% of knowledge workers want to return to full-time office work, with 72% preferring a hybrid remote-office model.
The next few years will see a huge shift in attitudes towards office-based working. But experiences of working from home vary dramatically with circumstance. Whereas the office acts as a leveller – where all employees have access to the same broadband, equipment, space and even snacks and coffee – 9 out of 10 shared houses in the UK don't have a living room.
How do people work from home when they don't live in an environment that supports it? Rather than looking to a new housing typology, this solution focuses on introducing hyperlocal modular workspaces into communal spaces surrounding typical housing blocks. Production, construction and maintenance would be subsidised by amendments to legislation including the 1974 Health and Safety at Work Act, requiring employers to subsidise workers via a National Insurance contribution.
The chosen test site is a generic landscape typical to housing blocks in the UK. Lightweight, single-storey workspaces are constructed to a 4 × 4 metre grid from prefabricated timber elements, designed to be configured in a variety of ways in response to demand and user habits. The structures have the potential to activate under-used amenity space, allowing the wider community to benefit, and can be expanded and contracted quickly in response to changing need.
Team:
StudioShaw
Harry Thomson, Elliott Wang
Artist and Fabricator
Finn Thomson