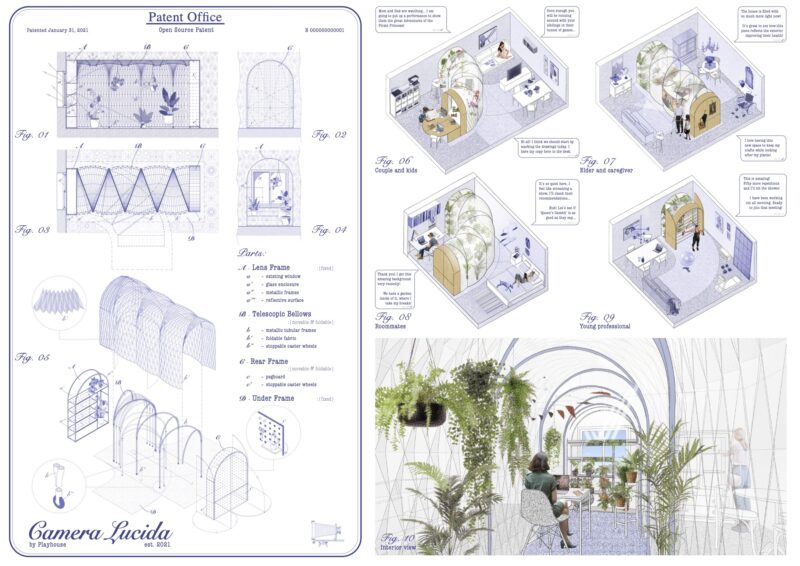 Access to private exterior space during lockdowns has marked a big divide. Outside spaces are the equivalent of office breakout areas, and those with access have benefitted from better physical and mental wellbeing. Unfortunately, retrofitting balconies is a major endeavour encompassing planning, structural reinforcement and temporary user relocation.
Camera Lucida aims to recreate exterior space inside, using an adaptable device that brings the external environment (daylight, air, reflections, nature) into homes through existing windows. Inspired by early folding cameras, a glass and steel structure conceived as a lens frame captures light via mirrored shelves. Populated with plants, vases or other objects, the shelves rotate to reflect tracked sunlight and exterior scenery back into the room, enhancing connections with the outdoors.
A telescoping bellows principle is employed to demarcate space differently according to user needs, which might include breakout space, a kids' playroom or an indoor greenhouse where older people can relax in comfort. An origami-like translucent fabric defining the space is supported by a series of arched metal frames on wheels.
A highly customisable rear frame constructed from pegboard can unfold in multiple directions to form either a table, shutters or shelves, while an under frame marks the footprint of the three possible bellows positions.
Knitknot Architecture
Diana Cristobal, Gonzalo Jose Lopez, Tania Oramas, Alfonso Simelio
D'Lab
Maria Lozano
Sandra Javera Illustration
Sandra Javera